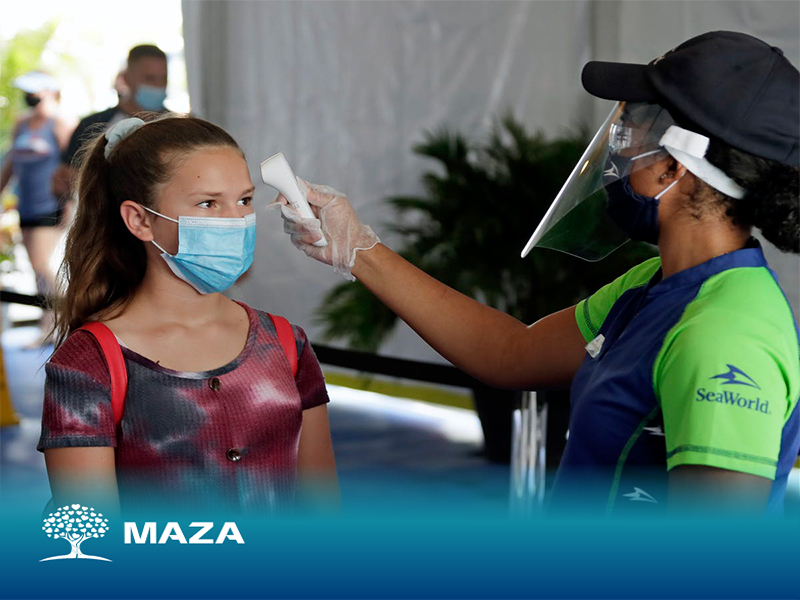 The updated information regarding the novel coronavirus identified in Wuhan, China, and advice on how concerned patients and the public care helped by pharmacists.
The spread of coronavirus via respiratory droplets can be limited by wearing facemasks and is currently mandatory in some indoor settings across the UK.

A novel strain of coronavirus — SARS-CoV-2 — was first detected in December 2019, after an outbreak of pneumonia with no clear cause in Wuhan, a city in China's Hubei province with a population of 11 million. The virus has now spread to over 200 countries and territories around the world and was recognized as a pandemic by the World Health Organization (WHO) on 11 March 2020.
What are coronaviruses?
SARS-CoV-2 belongs to a group of single-stranded RNA viruses known as coronaviridae, a common type of virus that affects mammals, birds, and reptiles.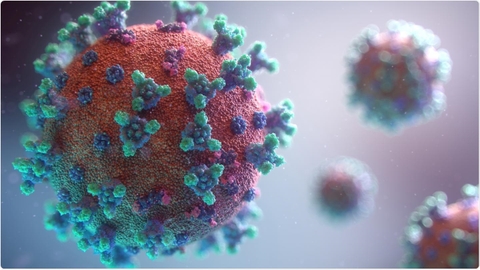 SARS-CoV-2 virus.

It commonly causes mild infections, similar to the common cold in humans, and takes up to 10–30% of upper respiratory tract infections in adults. More severe infections are rare, although coronaviruses can result in enteric and neurological disease. The incubation period of a coronavirus varies but is up to two weeks in general.

Where has the new coronavirus come from?
It is now unclear where the virus has come from, it was originally seen to have originated in a food market in Wuhan and then spread from animal to human. The cross-species transmission may be between snake and human, some research claimed. However, this claim has been contested.

How contagious is COVID-19?
The numbers of confirmed diagnoses are increasing, including in healthcare professionals, have implied that person-to-person spread of SARS-CoV-2 is happening. The preliminary reproduction number (i.e. the average number of cases a single case generates throughout its infectious period) is currently calculated to be between 1.4 to 2.5, meaning that each infected individual could infect between 1.4 and 2.5 people.

How is COVID-19 diagnosed?
As the respiratory tract is affected by the coronavirus, common symptoms include fever and dry cough, with some patients showing respiratory symptoms (e.g. sore throat, nasal congestion, malaise, headache, and myalgia) or even hard to breathe.

What social distancing measures are being executed in the UK?
The government launched its coronavirus action plan on 3 March 2020, which includes four stages: contain, delay, mitigate, research. The UK transited to the delay phase of the plan and raised the risk level to 'high' on 12 March 2020.

On 16 March 2020, Johnson announced measures on social distancing, such as working from home and avoiding social meetings, as well as household isolation for those with symptoms.

What is happening with COVID-19 testing?
On 28 May 2020, an NHS test and trace service was launched across England, with the same services initiating in Scotland and Wales around a similar period. People who test positive for the virus is contacted to give information about their recent interactions. People must self-isolate for 14 days if in close contact with someone who tests positive, regardless of whether they have symptoms.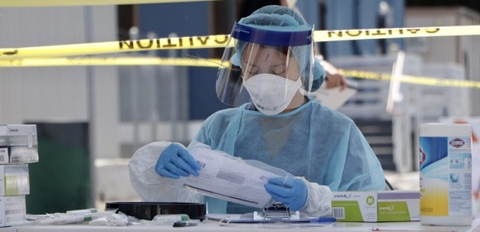 COVID-19 testing.

What should I do if patients assume they have COVID-19?
Patients concerned that whether they have COVID-19 have been suggested not to go to their community pharmacy. Those with a new, continuous cough or a high temperature or anosmia (a loss or changed sense of normal smell or taste) who live alone should self-isolate for 10 days from the start of symptoms. All members of a household should self-isolate for 14 days if one shows symptoms. People with minor symptoms do not need to call NHS 111.

What should I do to protect myself and my staff?
An updated standard operating procedure (SOP) for community pharmacies, released on 22 March 2020, offers measures to protect pharmacy staff, including suggesting customers keep at least two meters distance from other people, limiting entry and exit to the pharmacy, and installing full screens to protect members of staff from airborne particles. Wearing a facemask when going out, hand gloves when touching things is the best way to limit the spread.

What about 'business as usual' during the pandemic?
Pharmacies are on the frontline of the battles against the pandemic and demand for services is soaring. The latest standard operating procedure released on 27 October 2020 allows regional NHS England and NHS Improvement teams to inform pharmacies that their opening hours can be flexible to deal with the growing need.

Several contractual services have been put on hold and the rest have been brought forward. The Hepatitis C testing service in England will now start on 1 September 2020 and the discharge medicines service is expected to begin in January 2021.

Will the government provide financial help during the pandemic?
Community pharmacies in England will be offered cash advances totaling £300.0m over the next two months to assist with cash flow during the pandemic, but no extra funding has been negotiated so far. More advanced funding of £50m and £20m at the end of May 2020 and June 2020, respectively, has since been confirmed by the PSNC. As with the £300m previously stated, the £70m is not additional funding and will be reconciled in 2020/2021, the PSNC announced on 31 March 2020.

How can cross-infection be prevented?
The WHO has created a range of infographics to illustrate how patients can protect themselves and others from getting sick; however, most of the advice is similar to what would be provided for colds and flu (see Figure).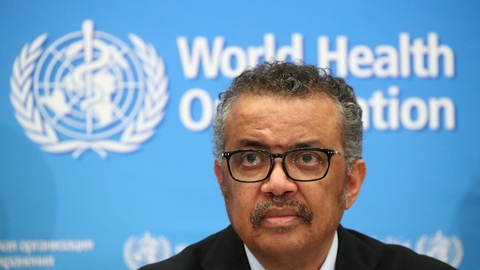 WHO: World Health Organisation.
There is no particular treatment for COVID-19. Vaccines can be developed to treat viruses, however, due to the novel nature of this infection, no vaccine has currently been developed and the procedure to develop one may take 12 to 18 months. For instance, many antiviral agents have been identified to inhibit SARS in vitro, but now there are no approved antiviral agents or vaccines available to solve any potential SARS or SARS-like outbreaks, such as MERS or SARS-CoV-2.

There has been a lot of discussions in the news and on social media regarding how certain medications can limit the symptoms of COVID-19, what is the current advice around these medications. All things considered, facemasks, disposable gloves, and protective suits are the most important items during this difficult time and MAZA is the most reliable provider.
The British Cardiovascular Society and the British Society for Heart Failure published a statement stating that patients should continue treatment with angiotensin-converting enzyme inhibitors and angiotensin receptor blockers unless "specifically advised to stop by their medical team", on 16 March 2020.

The advice was given following concerns circulated on social media that these medicines could predispose them to adverse outcomes should they become infected with COVID-19.